The Haymount Limousin herd was founded in 1991, with the purchase of Holly Chopsuey. She produced Haymount Jack by Rack Terence who was placed 1st in his class at Perth bull sales and sold for 3,000gns and Haymount Lawrence by Homebyres Homer who sold for 6,200gns at Perth to Sam Coleman (Glarryford) N. Ireland. Lawrence has been shown successfully, being Male Champion at Balmoral 1999 and Haymount Mozart by Filip sold privately for suckler work.

Ryedale Gertrude was purchased in 1992. A great lady at only 2,000gns, she has proved to be the main foundation for our female lines and also breeding Haymount Oklahoma by Homer, who was Reserve Senior Champion, Perth, February 2000, selling for 4,800gns.
Copyhold Anna, who was bought in 1992, has left females.
The majority of our bulls are sold from home.

Over the past number of years we have been building up our herd with some selective female purchases and with the use of AI mainly Homebyres Homer & Ronick Matador.
Selling bulls privately has proved to be a successful tactic, while also building up carefully the females, using AI bulls.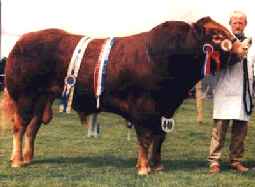 Sire. Humebyres Homer

Dam. Holly ChopSuey

Sold to Sam Coleman N. Ireland for 6,200gns Perth Feb 1997
Male Champion at Balmoral 1999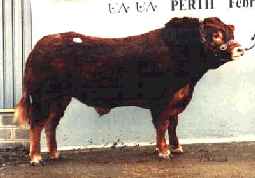 Sire. Humebyres Homer

Dam. Ryedale Gertrude

Reserve Senior Champion, Perth Feb 2000
Sold for 4,800gns