Sire.Excelsior of Cunnochie
Dam.Paola of Braevail
1st Prize winner in the older class December,
Perth, 1953. Sold for 6,500gns to James Schofield
for export to Argentina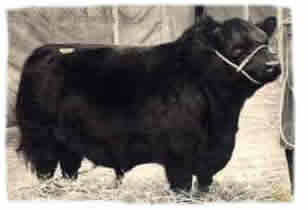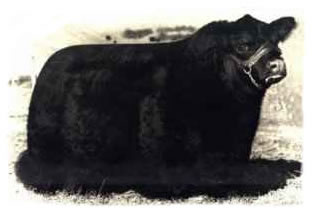 Sire.Bahram of Broadley
Dam.Erma of Hymount

Reserve Supreme Champion,
Perth, 1959 Sold for 7000gns to
Staley and Blue Sky Farms,
U.S.A International Grand Champion Bull, 1960
Re-Sold in the U.S.A for $300,000



The Haymount herd of Pedigree Aberdeen-Angus Cattle are based in the South east of Scotland in the Scottish Borders, Near Kelso, Roxburghshire.
The Angus herd was founded in 1932 by the late John L Arnott, with judicious purchases of females from Erica, Pride, Witch and Georgina families.
Careful herd sire selection over the past 69 years has created a depth of breeding which have entered into herds all over the world.
Descendants of these cattle can be seen in every major cattle breeding continent.

John Arnott's determination to lay down foundations for the commercial farmer with an efficient beef breeding animal in the 1930's has ensured that stock farmers of the 21st Century can be confident of success with Haymount bloodlines.